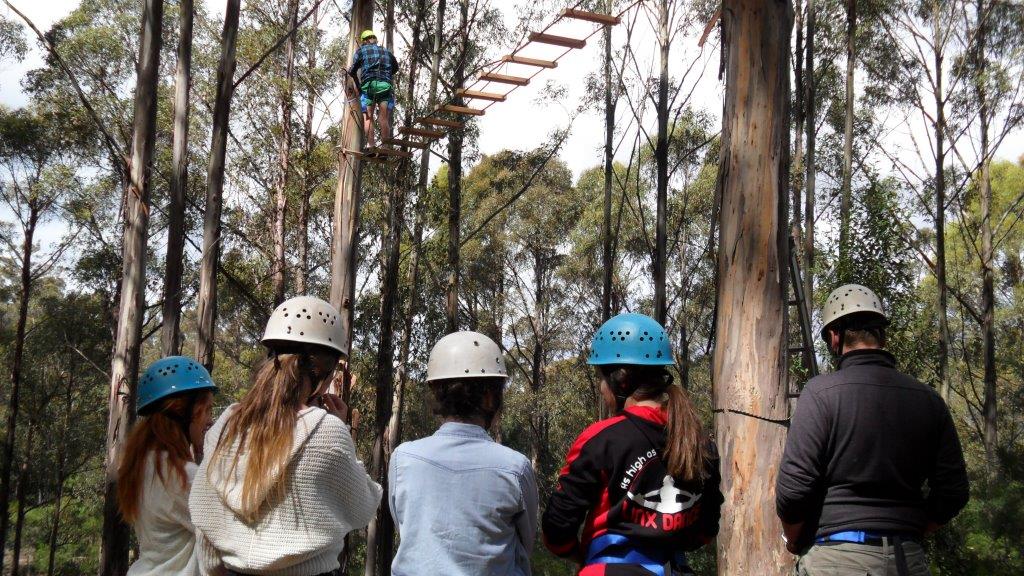 PROGRAM Our High Ropes course is a great individual challenger. Each of the seven elements are belayed by a facilitator who talks each participant through increasing challenging activities. 3 activities; Dangle Duo, Sugar Glider and Create Stacking, use team skills. With all the elements 3-6meters above the ground, the level of perceived risk is heightened, however with harnesses and rope, your safer in the trees than walking on the ground.
AGE RANGE Senior primary (year.6), through to adults.
GROUP SIZE Min 10, max 40. (Unless combined with low ropes, capacity can increase to 60) Schools/group need to provide supervising adults at a ration of 1:10.
VENUE Forest Glen Property, 38 Gryces Road Kingston. (15minutes from Hobart CBD)
LEADERS QUALIFICATIONS Fusions facilitators all have a minimum of 'Conduct High ropes session' and 'Vertical Rescue' and take part in regular in-service training. At least one Fusion facilitator per session will have a First Aid certificate.
EQUIPMENT Your booking includes use of High Ropes facilities, all equipment and some consumables.
GENERAL COMMENTS Participants will be required to wear closed in footwear, with long hair tied back. During summer months a hat and water bottle, and winter suitable warm clothes. Fusion can provide waterproof coats if the weather turns wet or cold unexpectedly.
Participants who are pregnant, or have pre-existing injuries/ condition are not able to participate.
Tell me more about High Ropes!